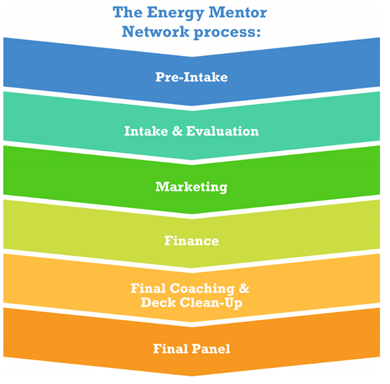 Launch Tennessee and the Tennessee Advanced Energy Business Council agreed to partner to form the Energy Mentor Network in late 2016, and it has been officially designated as one of Innovation Crossroad's Business Mentor Organizations.
In broad strokes, the Energy Mentor Network pairs mentors with promising new companies and entrepreneurs through a structured program involving panel presentations and mentoring sessions. Tennessee-based companies can apply to participate in the program, which consists of a series of panels of topics such as Intake and Evaluation, Marketing, Finance, and Final Coaching.
The Energy Mentor Network also provides unique access to industry specific research assets, networking opportunities with the Tennessee Advanced Energy Business Council's members and partners, and opportunities to participate in Launch Tennessee programming. The mentor network uses a video conference service to engage and connect mentors and entrepreneurs across the State of Tennessee when in-person meetings are not possible.